Alumna's songs in CBC's Searchlight competition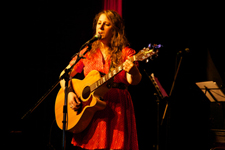 Three songs by Political Science alumna and singer/songwriter Raina Krangle, BA'94, "Passing Me By," "Sunset" and "Needle in the Hay" are in the Top 10 Indie Countdown on Women of Substance Radio out of California.
The song "Needle in the Hay" was also nominated for the Colleen Peterson Award by Folk Music Ontario a few months ago and is now actively competing in the CBC SEARCHLIGHT contest.
Voting is open and the public can vote daily until April 6 (first round of voting). Listen and vote at cbcmusic.ca/searchlight. Type Krangle into the "Search" window to locate her song.
In addition to writing adult contemporary songs, Krangle is also passionate about children and children's mental health. She has been entertaining young children with traditional and original songs from her children's CD, Raina's Rainbow Party, at private parties, daycares and corporate events. Past performances have included Kids Help Phone, Breakfast with Ikea, Family Day at Queen's Quay and Hopefest. Her voice will also be featured on a compilation CD for children's literacy called The Mighty Tribe!, which will be released April 2014.